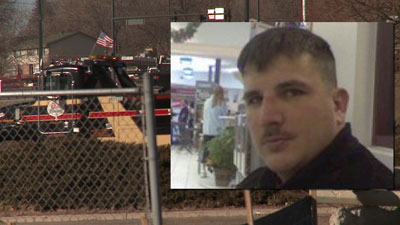 Allen Rose
This is a hard story to write about...it's been horrible ... it actually happend last month,
you may have heard of it, I think the story went worldwide
here's a link to a story right after it happened ...
LINK to a news report and video clip
it has been in the news around here since then because it took awhile to figure out what
they could charge her with, they needed witnesses to prove she did know he was back there,
she says she didn't .... he finally got untangled and released after about 1 mile ! ! !
here's the update :
3/09/2011
KRDO in Colorado Springs reports that Detra Farries was charged Wednesday morning with
11 counts in connection to the dragging death of Allen (Alan) Rose.
Those charges are manslaughter, leaving the scene of an accident, vehicular homicide,
reckless driving, three counts of failing to stop for a stop sign or obeying a traffic control device,
unsafe or defective vehicle, unregistered vehicle and two counts of reckless endangerment.
Colorado Springs police said Alan Rose was trying to tow a vehicle on Feb. 23, when Farries
got in the SUV and drove off. Police said Rose got caught in the tow cable and was dragged and killed.
Farries will be back in court on April 15.
________________________________
The last name was instantly recognized by many in the area, who remembered the
name in connection to a 2008 hit-and-run in Denver. Detra's former husband,
Terroll Farries Jr., was sentenced to four years in prison for leaving the scene
after striking Kathy Hill-Young while she crossed the street.
Detra and Terroll are in the process of divorcing, but court records indicate
that the divorce is not yet finalized.
- KKTV.com 2/28/2011
There was a memorial for him where a bunch of tow trucks made a convoy like run ...
it was kinda awesome...Tango taped some of it and I there are news vids online of the progression
here's a raw youtube I found :
Allen Rose's widow is also suing Detra Farries ...but well, she has no money, nothing....
just an ex in prison and 8 kids ... one story also said her brother was murdered in her home
up in Denver a few years back... this story is gonna be a Tyler Perry movie < shame on me >
you don't have to comment, I just needed to write abou this because Tango and I drive near
that area a lot and it really bothers us...just helping myself get some closure
Tango called a few political campaign offices and bitched one off about
opportunistic sign placement...one of them actually called him back, twice, and
are gonna move their sign away from the roadside memorial
at the spot where he was finally "untangled and released"
That's all.